At this Murco service station site in Oxford a bus had hit the canopy and caused quite heavy damage to one corner.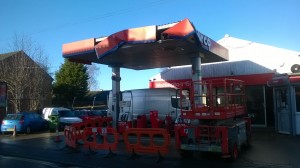 We attended site, made the forecourt working area safe and commenced the removal of the damaged fascia panel, corner and underlining sheets.  Part of the canopy structure was also damaged so we replaced a section of channel, some fascia cleats and installed the new fascia, corner and underlining sheets.  Whilst on site it was discovered the accident had also caused damage to the internal flexi-pipe that connects the gutter to the down pipe, we replaced this as part of the repair.
The Murco signage was removed by us and passed on to other contractors for re-installation.